Available Goats
Spare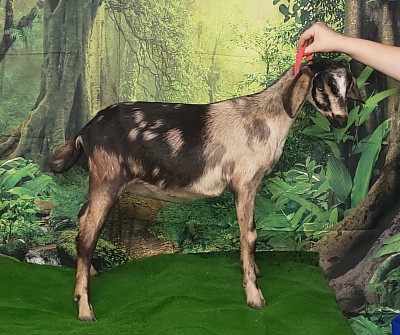 Moonstruck Doeling R05. F1 75/25% doeling born May 13, 2023
Spare is an quiet, active doeling. She has a nice balance between bulk and refinement. Out of Believer by Doodle.
Spare is for sale unregistered for $250, registered for $350.
Piglet
Piglet is 3/4 Nigerian Dwarf, 1/4 Nubian. He was an accident, but a sweet one. 🙄
Messr. Piglet is wethered. He is for sale for $200.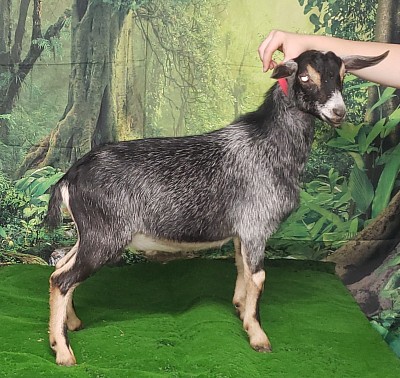 Piglet the Wether
SALES & RESERVATIONS
Updated October 15, 2023
Kidding season begins in March and continues through July. Please get hold of me or Reneé soon if you're interested. Our information is on the Contact Us page.
I post adult sale goats as I decide who I can live without. If you're interested in a goat you see on my website please get in touch. Good homes are important to me. I've been known to rehome goats I thought were keepers when the right situation turned up. Not all goats born are up to being breeders or show goats. I sell these as unregistered pets.

I usually have a wether or two available for pet homes or 4H/FFA. I don't sell wethers as meat goats, primarily because I don't breed for meat body type. I'm happy to refer meat buyers to meat goat sellers.

I usually have a couple of yearling and/or mature does available for family milkers, pets or breeders.
If you're new to goats or want a refresher on care I will refer you to a local goat rescue for a free goat care class. Check out Haven Acres Goat Rescue on Facebook. Tina is amazing! She always has pet goats available for adoption.
I only bottle raise kids that need the help. I do not bottle raise kids for buyers. 
Once kids are on the ground a $100 non-refundable deposit will hold your goat. 

I give discounts for 4H and FFA homes.  

All goats will be sold in pairs or more unless you already have goats. If I don't have the right goat I can refer you to other breeders and a wonderful goat rescue near me.